Small Bathroom Ideas: 39 Ways to Maximise Your Bathroom Space
Small bathrooms don't need to sacrifice style to meet your needs. If you know the space-saving tricks of the trade, you can still bathe in comfort and luxury inside the smallest of bathrooms. That's where we can help.
In this guide, we'll explain how to use interior design tools – such as storage, mirrors and natural light – to maximise the minimal space in your bathroom. We'll also show you different design trends and how they can help you build the small bathroom of your dreams.
So, read on below for 39 small bathroom ideas to help you think big.
Budget small bathroom ideas
When it comes to renovations, small bathrooms don't need big budgets. Whatever you need or want in your bathroom, you can normally tie everything together on a shoestring budget – if you know the money-saving tricks.
1.
Original owner: Cheltenham Loft Conversions
By upgrading the limited floor space with new tiles, you can add personality without breaking the bank. Overhauling the floor tiles is a relatively affordable project, but you can also simply brighten up your walls with white paint or tiles.
2.
Original owner: Matt Castellino
Again, overhauling your bathroom tiles with white replacements is a budget-friendly way to make the room feel bigger and brighter. This example also uses contrasting floor tile patterns to create an eye-catching space, which is something to consider in your renovations.
Simple small bathroom ideas
Just like any renovation, keeping things simple is your safest bet if you want to build a timeless bathroom. Simple doesn't mean boring, either. You can redesign your small bathroom into a minimalist space that looks gorgeous, as you can see from the small bathroom ideas below.
3.
Original owner: Drench
Minimalist bathrooms are popular, and they're simple by nature. Minimalism focusses on straight lines and monochrome palettes, resulting in a simple decor that won't go out of fashion. To achieve the simple aesthetic, you can try using large grey tiles and a black-framed shower enclosure.
4.
Original owner: Valerie Wilcox/Sarah Richardson Design
Using one colour scheme for your tiles and cabinets is about as simple as it gets, which is what this small bathroom idea does well. It's simple but looks luxurious, which is due to the high-quality tile slabs. If you feel your bathroom is too simple, you can add greenery for a splash of colour.
5.
Original owner: MegaCheap3D Renders
This small bathroom idea uses simple decor and natural light to create a visually impressive room. If your small bathroom has an outside-facing wall, you could upsize your window to bring in more light, which is one of the most effective ways to make a room feel bigger.
White small bathroom ideas
White bathrooms are common because it's the colour of cleanliness. Also, white rooms typically feel larger than dark rooms thanks to the reflected light, which makes white the ideal colour scheme for small bathrooms.
6.
Pexels: Max Rahubovskiy
You can use any other colours to accent a white bathroom, depending on the style you want. For example, you can use gold elements to make the room feel richer and more opulent, particularly when contrasted against white marble.
7.
Original owner: Champagne Chaos
You can also use black elements to create a monochrome bathroom. It's a timeless colour scheme. The small bathroom idea above also neatly blends together white marble, off-white paint and pure white tiles.
8.
Pexels: Max Rahubovskiy
Maximising space in your small bathroom is all about finding smart solutions. This small bathroom idea connects the basin, cabinet and toilet roll holder, offering up more floor space for you to relax in. You can even slide extra baskets underneath a floating cabinet, just like the example above.
Grey small bathroom ideas
In psychology, grey represents balance and neutrality. That's what makes it a good colour scheme for small bathrooms – it helps you feel calm and collected inside a relatively limited space. Given its neutral tones, grey also pairs well with many other colours.
9.
Pexels: Max Rahubovskiy
You can go all out with grey, depending on how much you like the colour. Your tiles, towels and paint can all be the same colour, resulting in a neutral bathroom that provides the perfect backdrop for lots of plants and greenery. With greys and greens, your small bathroom would be neutral and natural.
10.
Original owner: Zephyr and Stone: Scandi Bathroom
This grey small bathroom is more minimalist than the previous example. It uses lighter grey tones and matt black elements to create the minimalist style that's so popular. If you want a simple small bathroom that focuses on a few elements, then this style is for you.
Family small bathroom ideas
When it comes to bathroom routines, families typically need different things from other types of households. For example, those with young children will likely need a bathtub more than a shower in order to safely bathe young children. Thankfully, there are many ways to optimise small bathrooms for families.
11.
Original owner: Madeleine Abbott
Families should consider installing a bathtub with an attached shower head, which can make bathing the little ones a bit easier. If you have the floor space, and you prefer quick showers to long baths, you can also install a walk-in shower. Remember, this type of shower is more accessible than shower-over-baths because you don't need to step in and out, making them ideal for elderly family members or users with mobility disabilities.
12.
Pexels: Victoria Akvarel
Unlike the previous small bathroom idea, this example uses a shower-over-bath rather than a freestanding tub. This installation can help you maximise space in your family bathroom, combining the two bathroom elements into one space-saving feature.
Narrow bathroom ideas
Many small bathrooms are narrow in design. However, you can still turn a slim space into a stylish bathroom that meets your needs, as you'll see in the examples below.
13.
Original owner: Alexander and Co.
In most cases, you'll struggle to fit a bathtub inside a narrow bathroom. On the other hand, these narrow spaces are ideal for walk-in showers – all you need to do is install a shower screen and you'll have a brand new shower enclosure. Here, we also like the floating basin, which is more accessible for wheelchair users than regular basins.
14.
Original owner: Omnitub
If you need a tub for your bathing routine – and you have a narrow bathroom – you can find square-shaped or walk-in tubs that could better fit. We believe you shouldn't have to sacrifice your levels of comfort just because you have a narrow bathroom.
15.
Original owner: Paulo Martins Architecture and Design
If you want a fully accessible space, you can transform your narrow bathroom into a narrow wet room, which is like an open-plan shower enclosure. With this layout, there are no slippery steps to worry about – you just walk in and out of the shower area.
Small dark bathroom ideas
Dark bathrooms are suitable if you want a rich and bold statement room. They don't have to be gloomy – you can use natural or artificial light to add atmosphere, or you can use plants to brighten things up.
16.
Original owner: Tile Giant
Despite the white basin and light grey walls, this small bathroom idea remains dark, atmospheric and luxurious thanks to the high quality black tiles. Meanwhile, the ceiling lights reflect brightness off the bathroom's white and grey elements.
17.
Original owner: Next Luxury
As we mentioned, greenery can brighten up your dark bathroom while making the room feel more natural and relaxing. Of course, you can always find fake plants if you're worried about maintenance.
Contemporary small bathroom ideas
Contemporary design is always evolving to some extent. However, what remains unchanged is its focus on one or more key elements. For instance, contemporary small bathroom ideas typically focus on stylish basins or shower heads. If you have the budget and eye for design, then a contemporary layout is something you should consider in your next bathroom project.
18.
Original owner: WestStoneBathrooms
Small bathrooms can still have statement pieces, which is what contemporary design centres on: focal points. In the above example, you can find two beautiful basins and a circular mirror that demand your attention. This is something you could easily try at home.
19.
Original owner: Lauren Levant Interior
The ideal walk-in shower for couples, or users who enjoy spa experiences with multiple shower heads, this contemporary small bathroom idea blends accessibility with beautiful symmetry. You can even sit down inside the shower, making it a comfortable option for people with limited mobility.
20.
Original owner: Rock and Wood Interiors
With this bathroom, you're immediately drawn to the wonderful tile design. The tiles are unique and stylish, using crisp lines typical of contemporary design. We also like the contrasting materials, with a wooden countertop resting above slate tiles.
Small bathroom mirror ideas
Mirrors are one of the most common interior design tricks for small rooms, allowing you to 'increase' the size of your bathroom without physically breaking down walls. Below, you'll find inspiration for your small bathroom's new mirror.
21.
Pexels: Christa Grover
Circular mirrors are typical of contemporary and Scandi-style bathrooms. As you can see from the above example, the mirror contrasts against the straight lines, creating a memorable centrepiece.
22.
Pexels: Antony Trivet
Small bathrooms usually have limited wall space. With that in mind, you can always install a new mirror spanning wall-to-wall, maximising the mirror's effectiveness when creating space inside your small bathroom.
Modern small bathroom ideas
In the design world, modern is often used interchangeably with contemporary. However, contemporary technically refers to the latest design trends, while modern design always focuses on straight lines and neutral tones. That said, most modern small bathroom ideas will look similar to contemporary bathrooms, given the popularity of modern design today.
23.
Original owner: AB Group
If you'd like to make your small bathroom feel more modern, you should opt for neutral tones like grey, white and light brown. As this bathroom shows, you can blend those colours together in order to create a simple bathroom with a modern twist.
24.
Original owner: That_Overton_House
Modern walk-in showers usually have glass shower screens with coloured frames. It's commonly a black frame, used to enhance the bathroom's monochrome theme and straight lines aesthetic.
Sink ideas for small bathrooms
In terms of interior design, you don't have much room to play with inside small bathrooms. That's why it's always good to think outside the box when it comes to the basin. It can be the focal point. If you're looking for sink ideas for small bathrooms, see our examples below.
25.
Original owner: Alamy Stock Photo
The sink and vanity area are the centrepiece for many bathrooms. That's why it pays to get creative in this department – you can make your small bathroom stand out from the crowd with a stylish, marble basin, just like the example above.
26.
Original owner: Kris Ladera
Installing a unique sink should help you create a small bathroom your guests won't forget. The small bathroom idea above uses a vintage basin below an oblong-shaped mirror to create a beautiful and symmetrical vanity area.
Storage ideas for small bathrooms
Whether you're a large family or single-person household, you'll need storage if you have a small bathroom. However, finding attractive storage options can be difficult, if you don't know the latest trends. Simply check out the examples below for some storage inspiration.
27.
Original owner: Adroit Interior Design
These days, you can find almost any type of bathroom furniture that doubles up as storage. In the small bathroom idea above, you can see the basin cabinet, mirror cabinet and shower enclosure all offer subtle storage options. Best of all, the bathroom remains elegant.
28. 
Original owner: Bodes_Studio
If your bathroom has surfaces, it has storage. Whether it's above the toilet or next to the sink, you can keep towels, soap and decorations neatly tucked to one side. We also like how this bathroom uses a large chest of drawers to maximise storage and floor space.
Small luxury bathroom ideas
We believe size shouldn't affect luxury. Whether you're upgrading or completely renovating your small bathroom, you can still bathe in luxury. It doesn't need to cost the earth, either.
29.
Original owner: C.P. Hart
Marble is one of the most luxurious materials. It's simply stunning. It's not the most affordable option, however, but you can find marble-effect alternatives if you like the design. And if you want a luxurious small bathroom, marble should be your top choice.
30.
Original owner: Adige Design
White marble is an excellent option if you want your small bathroom to feel bright, airy and luxurious. You can either go all out with marble floors, surfaces and walls, like the example above does, or stick to one marble centrepiece.
31.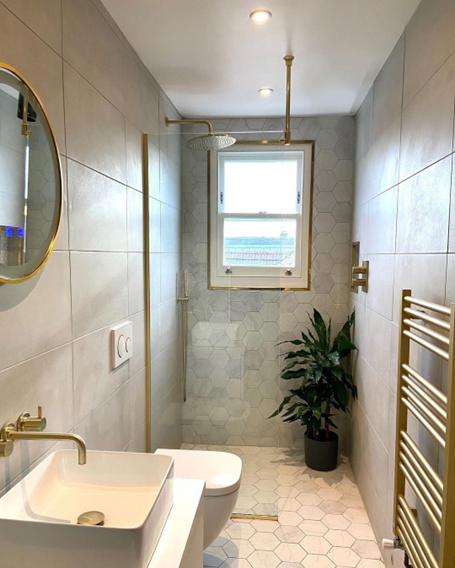 Original owner: The_Streatham_Project
Gold is luxury. That's why it's another great option if you want to create a lavish bathroom. You can easily use gold-coloured taps, piping and towel racks to accent your white bathroom.
Small loft bathroom ideas
Lofts are ideal for converting into small bathrooms. Whether you're adding a guest bathroom or you want an extra shower for your growing family, you can transform the top of your home into a small bathroom that still allows you to enjoy a safe and comfortable wash.
32.
Original owner: Apex Lofts
Lofts are usually the perfect size for a toilet, basin and walk-in shower. Meanwhile, you can also install a skylight if you want more natural light. If you have a tight budget, you can use white ceiling lights instead.
33.
Original owner: Velux
If you have the floor space, you can install a walk in bathtub and a walk-in shower in your loft conversion. This option is ideal if some members of your household want to lie down while bathing, or if others want to easily step in-and-out of a shower.
Small bathroom with bath ideas
Baths are luxurious add-ons for some people. For others, they're necessities that make it easier to wash safely and comfortably. Whichever camp you're in, you can easily install the right bathtub for your taste and needs inside your small bathroom.
34.
Original owner: Blaydon Bathrooms
The shower-over-bath is an effective space-saving feature for small bathrooms, helping to maximise the limited floor space. Shower-over-baths aren't as accessible as walk-in showers, but you can find walk-in bathtubs with shower heads that make it easy to step in-and-out.
35.
Original owner: Mapiful
Freestanding bathtubs can elevate your small bathroom to the next level of luxury. You can choose between a modern tub, like the photo above, or a traditional tub with four legs – typically found in Victorian bathrooms.
Victorian small bathroom ideas
Victorian design is synonymous with traditional design. Victorian bathrooms are different from contemporary bathrooms and their sleek lines – instead, they're characterised by pillar taps, high-level cistern toilets and freestanding baths.
36.
Original owner : AlbertsHouse
If your house is Victorian, it makes sense to style your small bathroom in the same way. Although, you can use Victorian decor in any bathroom and it will still look classy. All you need install is a white basin, vintage taps and a high-level cistern toilet.
37.
Unsplash: Phil Hearing
You might notice a Victorian theme here: white tiles, tall basins and dual flow taps. These are the quintessential Victorian bathroom elements that will feel cosy inside a small bathroom. If you have the budget, you can also install a traditional freestanding tub.
Rustic small bathroom ideas
Unlike modern bathrooms, rustic design is defined by unrefined elements, such as stone and wood. If you love the outdoors, then you should try redesigning your small bathroom into a rustic space.
38.
Original owner: Kate Large - Zazous Inspirational Design
Rustic small bathroom ideas typically involve multiple elements, including plants, wooden surfaces and contrasting materials. With rustic bathrooms, the idea is to create an indoor oasis that makes you feel like you're bathing in Mother Nature. It's a bold renovation project, but it's worthwhile if you get it right.
39.
Original owner: Juan Sebastian Duque Quevedo
This bathroom has a rustic vanity unit, combining wood, stone and greenery. It's about as rustic as it gets. There are also plenty of storage options in this example, which is a must-have for small bathrooms.